How to get PESEL
Find information on how to get PESEL number
PESEL number is assigned to:
Ukraine citizens and their spouses who do not have Ukrainian citizenship, who declare their intention to stay in territory of Poland and who came to country since February 24th, 2022.
Citizens of Ukraine who have a Pole's Card, who left Ukraine from February 24th, 2022 and then came to Poland, and for their family members.
PESEL cannot be assigned to:
Ukraine citizens who own:

temporary residence permit
long-term resident's EU residence permit
refugee status
subsidiary protection
permit for tolerated stay

It is also not assigned to those who have submitted an application for international protection or have declared their intention to submit such an application – unless they withdraw their application or the above-mentioned declaration earlier.
If you want PESEL
KIDS
For children, the application is submitted and signed by the parent, guardian or the person who takes care of the child. ATTENTION – personal presence of all persons over 12 years of age is required due to the obligation to collect fingerprints.

Children under 12 years of age – do not have to come if their entry into the territory of the Republic of Poland was based on a photo ID.

WHAT TO PREPARE?
passport photo (also applies to children)
a travel document or other document with a photo (it does not have to be valid)
in the absence of documents, you will be asked to submit a declaration.
Additionaly take a mobile phone with you with the number of the Polish operator and your email address. Click here if you want to get polish SIM card for free.
WHERE TO SUBMIT PESEL DOCUMENTS?
Urząd Miasta Olsztyna (City Hall)
Location: Plac Jana Pawła II 1, 10-101 Olsztyn
Free photos for Ukrainian citizens
Laboratorium Fotograficzne FORMAT
Location: Mrongowiusza 8/10, 10-537 Olsztyn
Phone number: +48 519 470 725
It is very close to the City Hall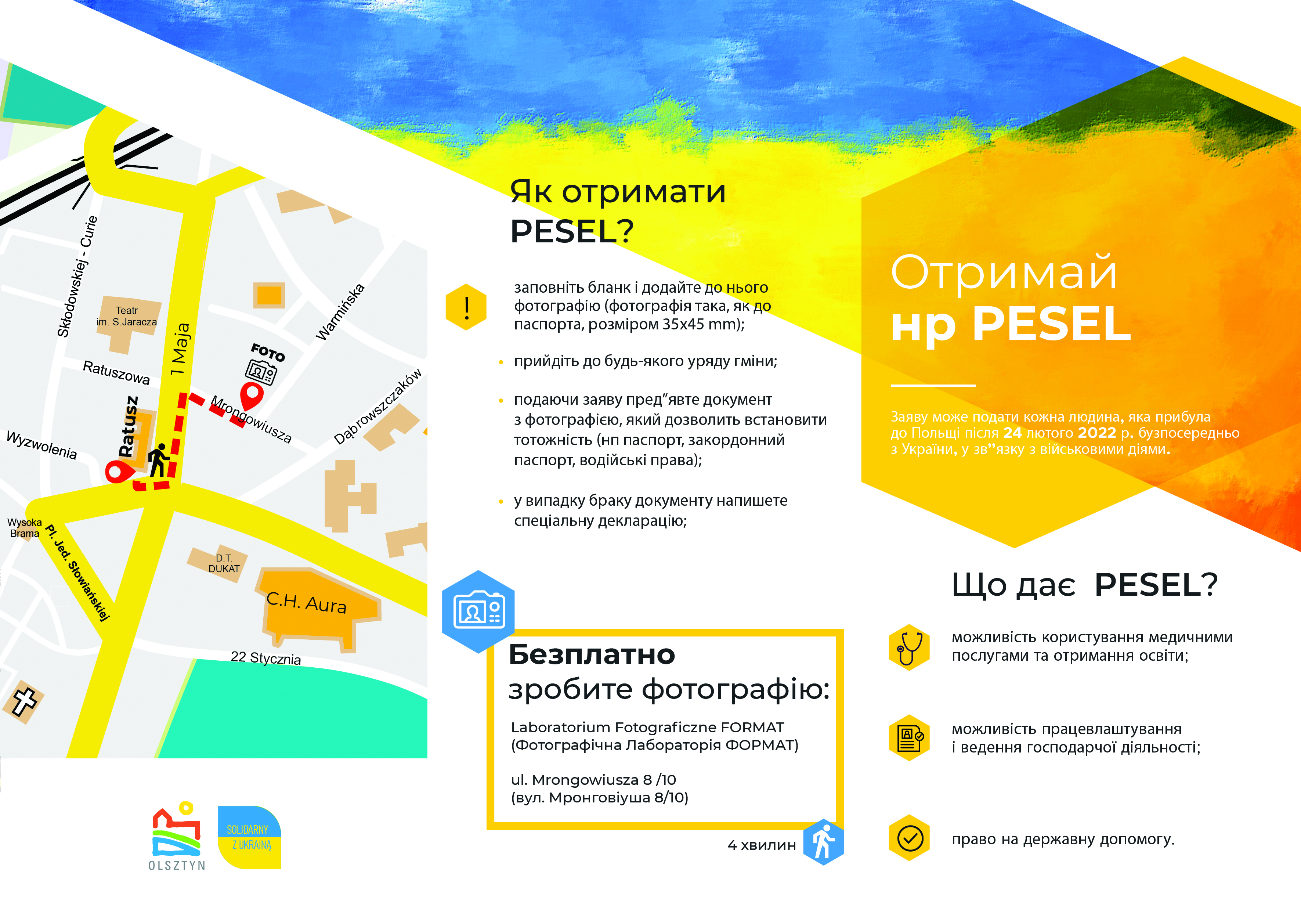 Olsztyn City Hall (Town Hall)
working hours: 8:00-12:30
room 31
Location: ul. Lubelska 12, Olsztyn
Sign up for a free photo shoot, photographer arrives at scheduled times.